Discover Cairns

Nestled between two of Australia's greatest wonders: the Great Barrier Reef and the world heritage Daintree Rainforest, lies the city of Cairns. A modern, sophisticated city with world class shopping, dining, entertainment and cultural facilities, Cairns has dozens of restaurants, accommodation choices, bars, the Esplanade lagoon and an international art gallery.
At a latitude of almost 21 degrees south and a longitude of 153 degrees east, this idyllic location is home to North Queensland's most beautiful tropical paradise on earth.
The Esplanade is the focus of Cairns city and has some of the the finest restaurants, with no trip to Cairns complete without dinner and drinks overlooking the waterfront. A walk along the Esplanade at sunrise, together with the unique bird life, makes for an unforgettable experience.
Cairns enjoys a close proximity to Asia with international connections from a selection of major destinations.
The location of Cairns makes it an ideal base from which to explore the region and visit the neighbouring townships. Each offers their own unique attractions and history, including...
Weather
Cairns enjoys around 300 days of sunshine a year, a friendly, relaxed tropical lifestyle and is therefore one of Australia's most popular holiday and vacation destinations. Cairns has a winter period of balmy temperatures and low rainfall so during the conference you can experience average daily temperatures of 25° Celsius and overnight temperatures of 17° Celsius.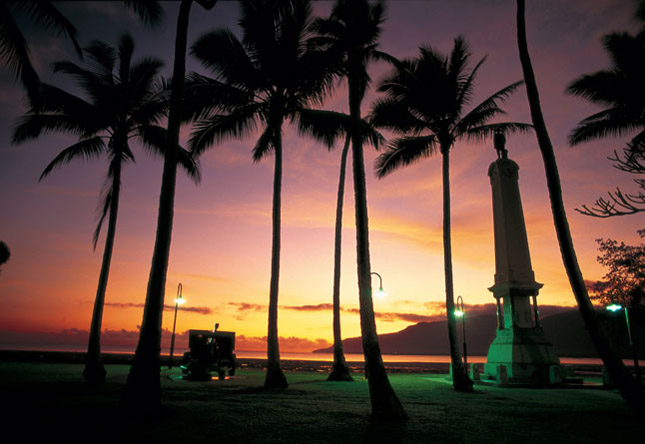 Travel
Travelling to Cairns is easy with the Cairns International Airport only 8 kilometres (5 miles) from the city centre. The airport has daily flights from Asia, the United States and Europe (via Singapore).
Cairns is your natural departure lounge for exciting regional highlights such as Port Douglas, Daintree Rainforest, the Atherton Tablelands, Mission Beach, Cape York, and Gulf Savannah.
Choose your mode of transport to get about Cairns. Everything from rental cars to bus services, taxis and limousines to aircraft, boats and trains. Local bus shuttle services regularly pick up and set down travellers at most hotels and accommodation establishments. There are no conference shuttle bus services available. Most hotels are within a 10 minute walking distance to the Cairns Convention Centre.
Major car rental companies are represented at the airport, and there are many additional car and camper-van rental companies with offices and Cairns. Reservations prior to arrival are recommended.


Air
Cairns Airport is the main gateway to Tropical North Queensland. It boasts international, domestic and general aviation terminals. It is serviced by major international, national and state air carriers.
Jetstar, Virgin Blue (V Australia) and Tiger Airways direct daily flights to and from Brisbane, Darwin, Melbourne, Sydney, Alice Springs, Ayers Rock, Gladstone, Gove Mackay, Horn Island, Thursday Island, Townsville, Weipa, Hamilton Island and more.
There are many direct flights for international travellers: New Zealand, Hong Kong, Japan, Guam and Papua New Guinea as well as Singapore via Darwin.
Cairns Airport is Australia's fifth busiest in terms of international passengers.
Cairns Airport offers both domestic and international flights. Airfield operations are 24 hours, and terminal operations including shops, cafes at both pre and post immigration points are open in accordance with flight schedules.
If you're arriving in Cairns by plane then you might need an airport transfer to get you to your accommodation.
Rail
The innovative Tilt Train travels at high speed, offering passengers a smooth and comfortable ride thanks to the tilt technology.
You can take the Tilt Train to your favourite Queensland coastal destinations between Brisbane and Rockhampton, and between Brisbane and Cairns.
Whether you're heading for the Great Barrier Reef, Fraser Island, Hervey Bay or any beauty spot in between, the Tilt Train is the perfect choice. Ideal for shorter daytime trips the Tilt Train will get you there efficiently, ensuring you don't miss a moment of scenery along the way.

For example, from Cairns to Kuranda on the Kuranda Scenic Railway is a 34 km trip taking 1 hr, 45 minutes. Brisbane to Cairns is a 1691 km trip taking 23 hours and 55 minutes. For more information on train journeys, see the Queensland Rail Travel website or download the Tilt Train timetable.

Road - Car Hire
Renting a car is a great way to get around in Cairns and explore the many great destinations that are just a few hours drive away.
Getting around Cairns CBD with your own car does make things a little easier. The driving in Cairns is fairly laid back just like the town itself so take your time and enjoy the slower pace. There's plenty of parking in town and the road signs directing you to popular tourist destinations are clearly marked.
There are many wonderful scenic routes to take that combine rainforest and ocean views, so if you want to get out of the city at your leisure, hiring a car is an excellent idea. The coastal roads connecting Cairns to other beachside towns are thought to be some of the best in the world.