Online registration is now closed. You will be able to register onsite at the conference. Please contact Conference Logistics on 02 6281 6624 or email conference@conlog.com.au for further details
Registration Fees
The registration fee includes all taxes. It covers:
Access to all plenary, technical and workshop sessions
Conference proceedings and free online access via ScienceDirect
Registration materials, conference guide, and giveaway items
Coffee, snacks, lunches, and Welcome Reception
Conference dinner at Tjapukai, an Aboriginal Cultural Park (except student registrations)
The right to present one accepted paper...
For additional papers an extra fee is charged

Please note that the rates are in Australian dollars.
Author/presenter registration
(before March 15, 2014)
and Early bird fee
(before April 25, 2014)
Late registration fee
(after April 26, 2014)
Regular participant
AU$ 800 (approx. €520 and US $700)
AU$ 900 (approx. €590 and US $790)
Student*
AU$ 565 (approx. €370 and US $495)
AU$ 665 (approx. €435 and US $585)

*Student registrants are required to email a scanned copy of their Student ID at the time of registration. If this is not possible, students are required to present the soft or hard copy of their student ID at the Registration Desk on-site. Student registration does not include conference dinner.

As there may be fluctuations in the Australian dollar, you may wish to use the following currency converter to establish the latest conversion rates:
www.xe.com/currencyconverter
Extras
| | |
| --- | --- |
| Each additional paper** full rate | AU $ 400 (approx. €265 and US $360) |

** Author registration fee includes one paper in proceedings. Two more publications can be registered for the same pesenting author, each for an additional fee.
Registration payments
Registration payments can be made by credit card or International Bank transfer. All International Bank transfer payments must be accompanied by a remittance advice and faxed to +61 2 6285 1336 or emailed to Registration payments can be made by credit card or International Bank transfer. All International Bank transfer payments must be accompanied by a remittance advice and faxed to +61 2 6285 1336 or emailed to iccs2014@conlog.com.au. There is a AUD $20 surcharge for payment by International bank transfer, as banks deduct significant fees when transferring funds internationally.
Please use your surname & invoice number as a reference when transferring funds electronically
The bank account details are:
Account Name: ICCS 2014
Bank: CBA
Swift Code: CTBAAU2S
BSB: 062 900
Account Number: 1084 5224
Cancellation policy
If you cancel your participation in the conference, please email iccs2014@conlog.com.au
The following cancellation fee will apply*, based on the date when the office receives notification of cancellation.
*Cancellation made by presenters will NOT be accepted.
When written notice of cancellation received:
Until April 25, 2014: 50% of the registration fee
From April 26, 2014: 100% of the registration fee (No refund)
Visa invitation letter
If you need a Visa invitation letter, please register and make payment first. Your visa invitation letter will be sent to you by email once you have made payment for your registration. If you pay via credit card you will receive your visa invitation at the same time as your registration confirmation letter, within 5 business days of registration. If you opt to pay via International Bank transfer we will need to wait til payment is received before we can send the Visa invitation letter.
The additional Visa information that you provide as part of the online registration process will be provided to the Australian Department of Immigration to assist with the processing of your visa application.
Special accommodation rates have been negotiated for conference delegates at the
Pullman Cairns International
, the venue for ICCS 2014. To receive these rates, bookings must be made via the on line registration system and not with the hotels directly. Accommodation is available for the dates of Monday 9 June 2014 until Thursday 12 June 2014, but can be organised outside of these dates on a 'request' basis. All accommodation bookings are subject to availability.
The closing date for accommodation bookings is 7 May 2014.

Please note that rates are room only.

Pullman Cairns International
17 Abbott Street
Cairns, QLD 4870
Phone: +61 (7) 4050 2160
Website: http://www.pullmancairnsinternational.com.au

City/Mountain View Room:
AU$169 per room per night
Harbour View Room:
AU$189 per room per night

(includes Wi-Fi and Cable internet access)
Change of Booking
Amendments to accommodation bookings will only be accepted in writing to Conference Logistics by fax to +61 2 6281 1336 or email to iccs2014@conlog.com.au . Any changes must be advised by 7 May 2014.

Cancellation
All cancellations MUST be made in writing to the Conference Logistics. Cancellations received after 7 May 2014 will be charged by the hotel according to their cancellation policy.

Payment of Accommodation
No booking can be confirmed without a credit card guarantee or a pre-payment. You need to pay the balance of your accommodation account and any incidental expenses incurred during your stay (for example, mini bar, telephone or dry cleaning) when checking out of the hotel.

Accommodation Pre-Payment
You may pre-pay a minimum of one night or the total room cost. Please indicate how much you wish to pre-pay where indicated on the on line registration form.

Accounts
Delegates are responsible for paying the balance of their account and all incidentals on departure from the hotel. The hotel will be responsible for issuing tax invoices for accommodation payments upon departure.

Arrival Time
Standard hotel check-in time is 2pm, but individual hotels may differ. If you are to arrive before this time it is probable that you will not be able to gain access to your room. To guarantee a room to be available for an early arrival you will need to pre-book your room for the previous night. If required, please indicate on your registration form. (You will be charged by the hotel for the additional night).
6.00pm-8.00pm, Monday 9 June 2014
Pullman Cairns International
7.00pm-10pm, Wednesday 11 June 2014
Tjapukai Aboriginal Cultural Park
Hosted at Tjapukai Aboriginal Culture Park, the Conference Dinner will take delegates on a cultural adventure. Following a delightful buffet dinner, delegates can explore the Tjapukai history and soak up the culture, with a range of entertainment including a didgeridoo blessing ceremony, a fire-making show, a traditional Tjapukai corroboree, and much more. Join the Indigenous dancers around the campfire for some truly unique memories.
Cost: Included in full registration only (does not include student registration). Additional tickets may be purchased at a cost of $150 per person.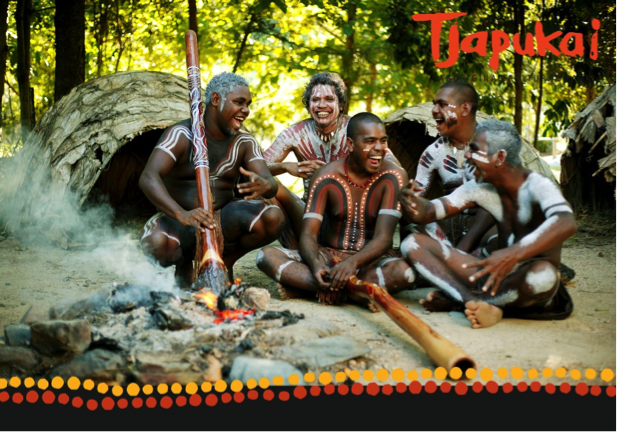 ---
ICCS 2014 is organised by
| | |
| --- | --- |
| Research Computing Centre | |