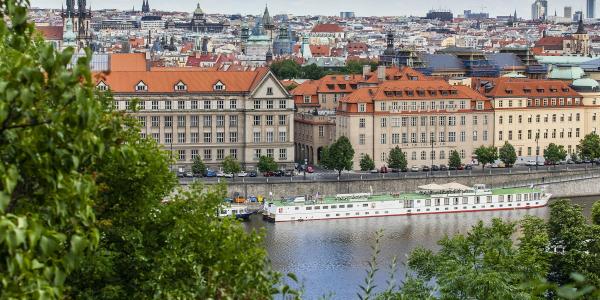 The 23rd edition of ICCS will be hosted by the Czech Technical University in Prague, at the Faculty of Nuclear Sciences and Physical Engineering, located along the river bank in Prague's beautiful Old Town (Staré Mesto).
The Czech Technical University in Prague (CTU) is one of the largest and oldest technical universities in Europe, and the highest-rated in the group of Czech technical universities.
CTU has currently eight faculties: Civil Engineering, Mechanical Engineering, Electrical Engineering, Nuclear Science and Physical Engineering, Architecture, Transportation Sciences, Biomedical Engineering, and Information Technology. CTU offers 350 accredited study programmes, 100 of which are taught in a foreign language. Close to 19,000 students are studying at CTU in academic year 2022/2023.
The Faculty of Nuclear Sciences and Physical Engineering is the only one in the Czech Republic to offer studies in a broad range of fields related to Nuclear Physics and Engineering. Crucial to this possibility is the availability of both fission (CTU's own VR-1 reactor) and fusion (Golem Tokamak) reactors.
Established by eminent Czech mathematicians and physicists (Běhounek, Kvasil, Majer, Němec, Petržílka, Šimáně, Votruba), the Faculty's tradition has always been founded on the basis of mathematics and physics, and on a deep understanding of the links between them. Today it hosts several cutting-edge research projects and collaborates with a number of international research centers (CERN, ITER, BNL-STAR, ELI).