Keynote Lectures
Anastasia Ailamaki, Professor and Lab Director, Data-Intensive Applications and Systems Laboratory, École Polytechnique Fédérale de Lausanne, Switzerland
Efthimios Kaxiras, John Hasbrouck Van Vleck Professor of Pure and Applied Physics, Harvard University, USA
Machine Learning for the Materials World
Michael Norman, Director of the San Diego Supercomputer Center, UC San Diego, USA
The Assembly of the First Galaxies: 20 Years of Computational Progress
Tomaso Poggio, Eugene McDermott Professor, MIT, USA
Why and When Can Deep – but Not Shallow – Networks Avoid the Curse of Dimensionality: Theoretical Results
Olga Sorkine-Hornung, Professor ETH Zurich, Switzerland
Rick L. Stevens, Associate Laboratory Director for Computing, Environment and Life Sciences, Argonne National Laboratory, USA
Cancer and the Brain
Stefan Thurner, Head of the Section for Science of Complex Systems, Medical University of Vienna, Austria
Big-Data driven 1-to-1 Simulations of Financial and Economic Systems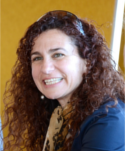 Anastasia Ailamaki
Professor and Lab Director, Data-Intensive Applications and Systems Laboratory, École Polytechnique Fédérale de Lausanne, Switzerland
WEB
ABSTRACT
Abstract coming soon.
Machine Learning for the Materials World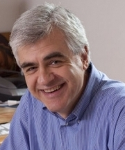 Efthimios Kaxiras
John Hasbrouck Van Vleck Professor of Pure and Applied Physics, Harvard University, USA
WEB
Efthimios Kaxiras was educated at the Massachusetts Institute of Technology where he received a PhD in theoretical condensed matter physics. He joined the faculty of Harvard University in 1991, where he is currently the John Hasbrouck Van Vleck Professor of Pure and Applied Physics in the Department of Physics and the School of Engineering and Applied Sciences. He is the Founding Director of the Institute for Applied Computational Science and served as the Director of the Initiative on Innovative Computing. He has also served in faculty appointments and in administrative positions in Switzerland (EPFL) and in Greece (University of Crete, University of Ioannina, FoRTH). He holds several distinctions, including Fellow of the American Physical Society and Chartered Physicist and Fellow of the Institute of Physics (London).
His research interests encompass a wide range of topics in the physics of solids and fluids, with recent emphasis on materials for renewable energy, especially batteries and photovoltaics, and on simulations of blood flow in coronary arteries. He serves on the Editorial Board of several scientific journals, has published over 360 papers in refereed journals and several review articles and chapters in books, as well as a graduate textbook on the properties of solids. His group has developed several original methods for efficient simulations of solids using high-performance computing as well as multiscale approaches for the realistic modeling of materials.
ABSTRACT
The last few years have witnessed a surge of activity in machine learning approaches applied to materials science. In this talk I will address both the promise and the limitations of using data science ideas to explore the possibilities of "materials by design", drawing on examples from recent research in our group. Applications of our work focus on exploring the properties of new materials for energy related problems, including improved batteries, photovoltaics, and new catalysts; in a parallel but distinct type of approach, we have been exploring how machine learning approaches can shed light into fundamental questions like the strength of amorphous solids.
The Assembly of the First Galaxies: 20 Years of Computational Progress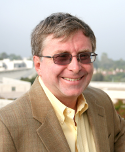 Michael Norman
Director of the San Diego Supercomputer Center, UC San Diego, USA
WEB
Dr. Michael L. Norman, named SDSC interim director in June 2009 and appointed to the position of director in September 2010, is a distinguished professor of physics at UC San Diego and a globally recognized astrophysicist. Dr. Norman is a pioneer in using advanced computational methods to explore the universe and its beginnings. In this capacity, he has directed the Laboratory for Computational Astrophysics — a collaborative effort between UC San Diego and SDSC resulting in the Enzo community code for astrophysics and cosmology in use worldwide.
Dr. Norman is the author of over 300 research articles in diverse areas of astrophysics, including star and galaxy formation, the evolution of intergalactic medium, as well as numerical methods. Dr. Norman's work has earned him numerous honors, including Germany's prestigious Alexander von Humboldt Research Prize, the IEEE Sidney Fernbach Award, and several HPCC Challenge Awards. He also is a Fellow of the American Academy of Arts and Sciences, and the American Physical Society. He holds an M.S. and Ph.D. in engineering and applied sciences from UC Davis, and in 1984 completed his post-doctoral work at the Max Planck Institute for Astrophysics in Garching, Germany. From 1986 to 2000, Dr. Norman held numerous positions at the University of Illinois in Urbana, as an NCSA associate director and senior research scientist under Larry Smarr, and as a professor of astronomy. From 1984 to 1986, he was a staff member at Los Alamos National Laboratory.
Dr. Norman is the Principal Investigator of two of SDSC's leading HPC systems—Gordon and Comet—which together represent more than $42M in NSF funding.
ABSTRACT
In this talk I give a progress report on my attempts to reconstruct the first billion years of cosmic evolution beginning with the formation of the first generation of stars and culminating in the complete photoionization of the intergalactic medium. After 20 years of intense effort, the narrative is falling into place. Progress has been achieved through the development and application of complex multiphysics numerical simulations of increasing physical complexity and scale on the most powerful supercomputers. I describe the processes that govern the formation of the first generation of stars, the transition to the second generation of stars, the assembly of the first galaxies, and finally the reionization of the universe. I discuss the observational predictions of these simulations which will be tested with the next generation observatories, principally the James Webb Space Telescope to be launched into space ca.2018.
Why and When Can Deep – but Not Shallow – Networks Avoid the Curse of Dimensionality: Theoretical Results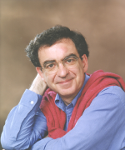 Tomaso Poggio
Eugene McDermott Professor, MIT, USA
WEB 1
&
WEB 2
Tomaso A. Poggio, is the Eugene McDermott Professor in the Dept. of Brain & Cognitive Sciences at MIT and the director of the new NSF Center for Brains, Minds and Machines at MIT of which MIT and Harvard are the main member Institutions. He is a member of both the Computer Science and Artificial Intelligence Laboratory and of the McGovern Brain Institute. He is an honorary member of the Neuroscience Research Program, a member of the American Academy of Arts and Sciences, a Founding Fellow of AAAI and a founding member of the McGovern Institute for Brain Research. Among other honors he received the Laurea Honoris Causa from the University of Pavia for the Volta Bicentennial, the 2003 Gabor Award, the Okawa Prize 2009, the AAAS Fellowship and the 2014 Swartz Prize for Theoretical and Computational Neuroscience. He is one of the most cited computational scientists with contributions ranging from the biophysical and behavioral studies of the visual system to the computational analyses of vision and learning in humans and machines. With W. Reichardt he characterized quantitatively the visuo-motor control system in the fly. With D. Marr, he introduced the seminal idea of levels of analysis in computational neuroscience. He introduced regularization as a mathematical framework to approach the ill-posed problems of vision and the key problem of learning from data. The citation for the 2009 Okawa prize mentions his "…outstanding contributions to the establishment of computational neuroscience, and pioneering researches ranging from the biophysical and behavioral studies of the visual system to the computational analysis of vision and learning in humans and machines." His research has always been interdisciplinary, between brains and computers. It is now focused on the mathematics of deep learning and on the computational neuroscience of the visual cortex. A former Corporate Fellow of Thinking Machines Corporation and a former director of PHZ Capital Partners, Inc., is a director of Mobileye and was involved in starting, or investing in, several other high tech companies including Arris Pharmaceutical, nFX, Imagen, Digital Persona and Deep Mind. Among his PhD students and post-docs are some of the today's leaders in the Science and in the Engineering of Intelligence, from Christof Koch (President and Chief Scientific Officer, Allen Institute) to Amnon Shashua (CTO and founder, Mobileye) and Demis Hassabis (CEO and founder, Deep Mind).
ABSTRACT
In recent years, by exploiting machine learning — in which computers learn to perform tasks from sets of training examples — artificial-intelligence researchers have built impressive systems. Two of my former postdocs — Demis Hassabis and Amnon Shashua — are behind the two main success stories of AI so far: AlphaGo bettering the best human players at Go and Mobileye leading the whole automotive industry towards vision-based autonomous driving. There is, however, little in terms of a theory explaining why deep networks work so well. In this talk I will review an emerging body of theoretical results on deep learning including the conditions under which it can be exponentially better than shallow learning. A class of deep convolutional networks represent an important special case of these conditions, though weight sharing is not the main reason for their exponential advantage. II will discuss implications of a few key theorems, together with open problems and conjectures.
I will also sketch the vision of the NSF-funded, MIT-based Center for Brains, Minds and Machines which strives to make progress on the science of intelligence by combining machine learning and computer science with neuroscience and cognitive science.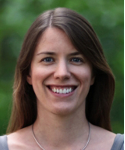 Olga Sorkine-Hornung
Professor, ETH Zürich, Switzerland
WEB
Olga Sorkine-Hornung is an Associate Professor of Computer Science at
ETH Zurich
. She leads the
Interactive Geometry Lab
and is a head of the
Institute of Visual Computing
. Prior to joining ETH, Olga was an Assistant Professor at the
Courant Institute of Mathematical Sciences
,
New York University
(2008-2011). She earned her BSc in Mathematics and Computer Science and PhD in Computer Science from
Tel Aviv University
(2000, 2006). Following her studies, Olga received the
Alexander von Humboldt Foundation
Fellowship and spent two years as a postdoc at the
Technical University of Berlin
.
Olga is interested in theoretical foundations and practical algorithms for digital content creation tasks, such as shape representation and editing, artistic modeling techniques, digital fabrication, computer animation and digital image manipulation. She also works on fundamental problems in digital geometry processing, including reconstruction, filtering, parameterization, meshing and compression of geometric data.
ABSTRACT
Abstract coming soon.
Cancer and the Brain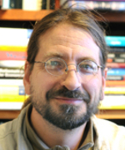 Rick L. Stevens
The Associate Laboratory Director for Computing, Environment and Life Sciences, Argonne National Laboratory, USA
WEB
Since 1999, Rick Stevens has been a professor at the University of Chicago and since 2004, an Associate Laboratory Director at Argonne National Laboratory. He is internationally known for work in high-performance computing, collaboration and visualization technology, and for building computational tools and web infrastructures to support large-scale genome and metagenome analysis for basic science and infectious disease research. He teaches and supervises students in the areas of computer systems and computational biology. He co-leads the DOE national laboratory group that has been developing the national initiative for Exascale computing.
Stevens is principle investigator for the NIH/NIAID supported PATRIC Bioinformatics Resource Center which is developing comparative analysis tools for infectious disease research and serves a large user community. Stevens is also the PI of The Exascale DeepLearning and Simulation Enabled Precision Medicine for Cancer project through the Exascale Computing Project (ECP), which focuses on building a scalable deep neural network code called the CANcer Distributed Learning Environment (CANDLE) to address three top challenges of the National Cancer Institute. Stevens is also one of the PIs for the DOE-NCI Joint Design of Advanced Computing Solutions for Cancer project, part of the Cancer Moonshot initiative. In this role, he leads a pilot project on pre-clinical screening aimed at building machine learning models for cancer drug response that will integrate data from cell line screens and patient derived xenograft models to improve the range of therapies available to patients.
Over the past twenty years, he and his colleagues have developed the SEED, RAST, MG-RAST and ModelSEED genome analysis and bacterial modeling servers that have been used by tens of thousands of users to annotate and analyze more than 250,000 microbial genomes and metagenomic samples.
At Argonne, Stevens leads the Computing, Environment and Life Sciences (CELS) Directorate that operates one of the top supercomputers in the world (a 10 Petaflops/s machine called MIRA). Prior to that role, he led the Mathematics and Computer Science Division for ten years and the Physical Sciences Directorate. He and his group have won R+D100 awards for developing advanced collaboration technology (Access Grid). He has published over 200 papers and book chapters and holds several patents. He lectures widely on the opportunities for large-scale computing to impact biological science.
ABSTRACT
Abstract coming soon.
Big-Data driven 1-to-1 Simulations of Financial and Economic Systems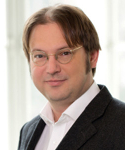 Stefan Thurner
Head of the Section for Science of Complex Systems, Medical University of Vienna, Austria
WEB
Stefan Thurner has a background in both theoretical physics from the Technical University of Vienna and in economics from the University of Vienna before joining the faculty at the
Medical University of Vienna
.Thurner has published more than 190 scientific articles in fundamental physics (topological excitations in quantum field theories, entropy for complex systems), applied mathematics (wavelet statistics, fractal harmonic analysis, anomalous diffusion), complex systems (network theory, evolutionary systems), life sciences (network medicine, gene regulatory networks, bioinformatics, heart beat dynamics, cell motility), economics (price formation, regulation, systemic risk) and lately in social sciences (opinion formation, bureaucratic inefficiency, collective human behavior in virtual worlds). He holds 2 patents. His work has received broad interest from the media such as the New York Times, BBC world, Nature, New Scientist, Physics World and is featured in more than 400 newspaper, radio and television reports.
ABSTRACT
Abstract coming soon.